XL120 series
Product Announcement from Yokogawa Corporation of America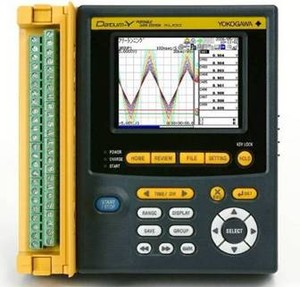 Compact data logger for both measurement and display
Eight or sixteen analog (T/C, RTD, DCV) inputs with removable terminal block.
Digital I/O – 2 logic & 1 pulse input with 4 alarm outputs
Trigger I/O for integration (data start/stop)
A total of 64 Modbus communication & math computation (+, -, x, ÷) channels standard.
100 ms data recording speed for 8 analog input channels and 200 ms for 16 analog input channels.
16 Meg of internal memory with external storage capability for compact flash, SD memory cards and/or USB memory cards.
Ethernet, RS-485 & RS-232 standard
XL120 can operate as FTP Client/Server, Web Server all with email capability.
Displays: Waveform, Digital, Bar Graph, Review & Logging/Review
Available: Lithium battery, printer, additional terminal blocks.
Click here for full specification
About Yokogawa:
Headquartered just south of Atlanta, Georgia,Yokogawa sales offices across the United States. Our commitment to our customers is our number one priority, and we back it up with a network of representatives and distributors that reflect this commitment.
Our parent company, Yokogawa Electric Corporation, is dedicated to developing the most advanced control and instrumentation products and systems in the world. Today, Yokogawa has a firm hold on its position as a leading manufacturer in the fields of measurement, control, and information. As a major global player, the company anticipates the needs of the times, continually tackling new challenges and exploring new markets in order to provide the best solutions in the world.
Yokogawa's commitment to innovation is reflected in our extraordinary investments in R&D, which ensure development of the most advanced products and services. Yokogawa has consistently made above-average investments in research and development. In fact, over the past decade we have set an industry standard by committing a full nine percent of sales revenue each year to R&D.
---