STM Planetary Gearboxes for OEM Applications
Product Announcement from Young Powertech Inc.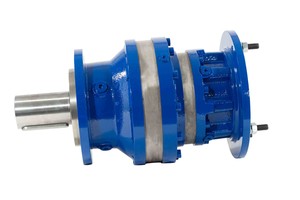 Features
Ratios from 1:3.5 up to 1:2500
Torque range from 1000nm to 170,000nm
Suitable for continuous, reversing and intermittent operation
High torque in relation to size
Compact design
Can be installed in any mounting position
High radial load on output shaft
Ground gears to achieve lower noise levels
Follow this link to see Planetary Gearboxes being manufactured
With torque ranging from 1000 nm to 170,000 nm the Young Powertech Planetary Gearbox range is ideal for continuous, intermittent or reversing operation. Torque is high in relation to compact design and size.
Suitable for installation in any mounting position, our Planetary Gearboxes can accommodate high radial and axial loads and come complete with ground gears for minimal noise whilst in operation.
The STM range of Planetary Gearboxes are ideal for mobile and fixed applications and have been designed to accept standard IEC electric motors, hydraulic motors and air motors. Whatever the application - STM have a solution.
Planetary Gearboxes are perfect for - but not limited to - applications where high torque and low speeds are required.
Don't forget to check out our news pages for further details on the STM range of Planetary Gearboxes.
---