ZEUS Approved by Major Medical Manufacturers
Product Announcement from ZEUS Battery Products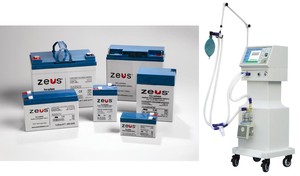 ZEUS Battery Products manufactures a complete line of ZEUS Sealed Lead Acid (SLA) that are approved for the medical manufacturing industry. The SLA batteries have been tested under rigorous conditions and approved by major OEM's for portable medical device applications where performance counts.
ZEUS batteries are specially designed to fit the power requirements for the following applications: injection pumps, cardiac defibrillators, vascular assist devices, cardiac pumps, respirators, monitoring equipment, electric wheelchairs and x-ray equipment.
They surpass competition in extreme performance and cycling tests. ZEUS batteries are manufactured in sizes ranging from 2 Volt 4.5 AH to 12 Volt 200 AH. They are also offered with several termination options for a variety of applications. Coupled with its competitive pricing, ZEUS is positioned to be a market leader, not just another market option!
We currently service several medical companies who agree with our viewpoint and have qualified our line of ZEUS SLA Batteries. This list includes but is not limited to:
Siemens
CriticCare Systems, Inc (CSI)
ZOLL
Huestis Industrial
Baxter
Welch Allyn
There are a number of top-selling medical device companies who are looking for suppliers of batteries, chargers, and accessories. We would like you and all medical OEMs to become familiar with ZEUS Battery Products as a reliable source for their battery needs.
Think immediately of us as a resource!
To learn more about the complete line of ZEUS battery products, visit ZeusBatteryProducts.com or email sales@zeusbatteryproducts.com today!
---