Hi-Speed, CNC Tap Machine & Auto Parts Feed System
Product Announcement from Zagar Incorporated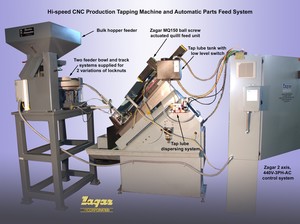 Zagar Inc. 24000 Lakeland Blvd. Cleveland, Ohio 44132 USA
Phone # 888-562-5740 Fax: 216-731-8591
E-mail: sales@zagarinc.com Web site: http://www.zagar.com
High Speed, CNC Tapping Machine & Automatic Parts Feed System
One of Zagar Inc.'s product lines, is high speed, CNC tapping machinery and auto. parts feed systems. The Zagar tapping machine presented here, is an unattended, fully automatic production system for machining precision threads in mass produced aerospace fasteners. This system features automatic material handling, broken tool detection, and a Zagar MQ150 ball screw actuated CNC unit for tapping any left or right hand, inch or metric pitch thread.
The parts shown are stamped steel, aerospace fastener locknuts. The ID thread is a class 3B # 10-32.
The basic machine is a slant bed standard that features an MQ150 unit with the spindle axis servo motor mounted in-line with the spindle to minimize inertia and enable less than .5 second tap cycles. The two axis, AC servo, motion control system is a Zagar standard fully programmed for tapping, drilling, or combined drilling and tapping operations. A vibratory feeder bowl system, bulk hopper feeder, and auto. load unload fixturing enables unattended operation.
Locknuts are auto. positioned mechanically at the tap station and pneumatically ejected to a parts bin. After each cycle, a wand type tool detector checks for a broken tool at the tip of the tap. Tapping lubricant is metered to as little as a half drop per cycle and mixed with a sequenced air blast to both apply coolant and clear chips from the work area.
Two complete feeder bowl assemblies with customized handmade rotary tracking and pneumatic accessories are included. Feeder bowls are also quickly interchanged using precision corner datums and a pneumatic manifold block with quick-disconnects.
The bulk hopper feeder automatically maintains the level of parts in the feeder. Hopper capacity is enables approximately 8 hours of unattended operation.
The work area is totally enclosed when the machine is operating. One of the hinges on the enclosure cover features a safety interlock switch.
The tapping unit is a Zagar MQ150 ball screw actuated quill feed unit with an inline, low inertia spindle motor mount. This standard configuration of the MQ150 unit and it's control system have been used in production to synchronize with stamping operations at production rates as high as 240 parts a minute or 4 cycles per cycle.
Hi-Speed, multiple spindle, CNC tapping
In this example a Zagar, gearless, 4 spindle tapping head and a vertical, MQ150 CNC drill-tap station are applied to tapping (4) # 8-32 holes thru a steel stamping. The spindles are equally spaced on a .750" (19mm) diameter bolt circle. Each spindle featured a quick-change, Zagar standard tap holder. The stampings or work pieces, are automatically transferred under the tap station, using a dial index table supplied by the end user. In production, the tapping station has to complete the tapping operation in less than .75" seconds which is the cycle shown. (see video)
The turn-key 4 spindle tap stations included vertical columns and supporting hardware for accurately suspending the tapping spindles over the work station on a dial index production machine.
The pre-engineered motion control system is Ethernet ready and featured a touch screen HMI interface with stored programs for tapping left or right hand, inch or metric pitch threads. Programs for drilling or combination drilling and tapping are also included with every Zagar CNC tap station.
Machines are concepted and engineered by Zagar Inc. in 3D using Solidworks. Software for viewing files is a free download; enabling concurrent design and inter-change of drawings with end users of machines.
Please contact us soon to talk about a solution to your production hole making needs.
Phone # 888-562-5740 E-mail: sales@zagarinc.com

Play Hi-Speed, CNC Tap Machine & Auto Parts Feed System Video on YouTube
---