MQ150 Ball Screw Actuated
Product Announcement from Zagar Incorporated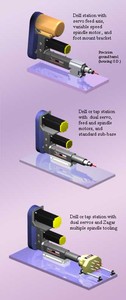 MQ150 Ball Screw Actuated
CNC Quill Feed Units
Precision ground, pre-loaded, ball screw actuated quill feed on center line of spindle

.0001" Per revolution minimum feed rate, 500 IPM maximum

1,000 Pound thrust capacity

3 HP Max. spindle motor size

150mm (5.9") stroke

10,000 RPM Maximum speed

Full CNC rigid tapping, left or right hand, and drapping cycles (combination drilling and tapping)

Programmed peck and multiple stage cycles

Spindle nose options including ABS, HSK, ASA, and ER single angle collets

Barrel foot mount, sub-base plate, and vertical column options
Zagar Inc. is a Machine Tool Builder specializing in the mass production and/or the qualification of holes. With our crank style design multiple spindle drilling and tapping head Zagar can design machinery with more rotating cutting tools in a smaller area. Our machines are used in the automotive, aerospace, electrical, electronic, propulsion, off-road construction equipment, hydraulic, pneumatic and general job shop industries to name only a few.
We have produced or qualified holes in most ferrous or non-ferrous materials. The design of our machinery has resulted in the development of stand-alone modular component product lines. These product lines are Multiple Spindle Drill/Tap Heads; air, hydraulic, cam, servo driven feed units and air, hydraulic or mechanical Workholding fixtures. Controls for these machines range from the conventional electric circuitry to fully integrated solid state as needed for PC compatibility. Assistance and support is also available for your in house needs.
History / Location: Since 1937 Zagar has offered machinery and assistance to customers throughout the world. Our plant is located at 24000 Lakeland Blvd. in Euclid, Ohio. Euclid is a suburb of Cleveland, Ohio in the United States of America. It is between the East 222nd St. and Babbitt Rd. exits on the south marginal of route I-90. The two buildings total 54,000 square feet of manufacturing facility.
Equipment: Zagar's Design and Manufacturing Departments are centered around AutoCAD version 14. We also incorporate solid modeling in our designs using Mechanical Desktop 3.0. Our general machining operations are numerically controlled (CNC). General processing and inventory is all controlled by computers. Our Assembly and Shipping Departments have 10-ton crane capacity.
Employment: Zagar presently employs 30 people. We average 45 hours per week with two shifts; expandable with overtime when necessary. The plant is normally open from 6:00 AM until 12.00 PM midnight. Office hours are 8:00 AM until 5:00 PM Monday through Friday except for Holidays.
PRESIDENT'S MESSAGE
Companies that will prosper in tomorrow's business climate will be those which meet the market's demand for exceptional quality and service. We, therefore, recognize that our most important resource is our employees and their ability to work together as a team. Quality performance through cooperative effort from each of us, as well as from our suppliers, is required if we are to meet these demands.
Our Quality System, as defined in our manual, is designed to direct our efforts toward continuous improvement in everything we do. By identifying responsibilities and practices to follow, it moves away from control by inspection toward prevention of errors and corrective action to eliminate the cause of problems.
Our commitment to quality must extend to all aspects of the business, not just to the quality of our products and services. It is imperative that we develop an understanding of our quality system, support our Quality Policy and be involved in the improvement process so we will continue to deliver superior products and services. Our commitment must extend not only to doing our jobs well, but also to finding better ways to do our jobs so our customers will continue to identify Zagar, Inc. as their preferred supplier of Machine Tool systems and components.
John F. Zagar
C.O.B. & President
---