PTFE Extruded Tubing
Product Announcement from Zeus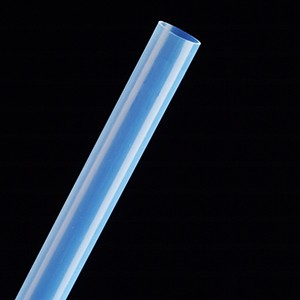 Known as the gold standard for polymer tubing, PTFE, is often the first choice for many advanced applications due to its superior lubricity, temperature and chemical resistance, biocompatibility and precision tolerances.
This fluoropolymer has a presence in everything from lifesaving medical devices to industrial equipment operating in demanding environments. PTFE is also ideal for chemical and analytic sciences.
We offer PTFE in many forms, including extruded tubing, Sub-Lite-Wall® tubing, heat shrink, special profiles, monofilament and multi-lumen tubing.
Properties
Lowest coefficient of friction of any polymer
Broad working temperature range (500 °F / 260 °C to -454 °F / -270 °C)
Chemically resistant – all common solvents, acids, and bases
Low extractables
Excellent dielectric strength
Biocompatible – USP Class VI approved
Precision extruded tolerances
Flame resistant (UL 94 VO)
Limiting oxygen index (>95)
Easy to clean
EtO and autoclave sterilizable
Mechanical resistance under severe conditions
Applications:
Our PTFE Heat Shrink meets M23053/12 Mil Spec standards and is commonly utilized for its dielectric strength in wire harness applications. PTFE is used to extrude convoluted tubing that serves as a flexible conduit to protect wires, cables and fiber optics from abrasion due to its mechanical integrity. Commonly ordered as Mil Spec 81914, Zeus can form cuffs post-extrusion on convoluted tubing for applications requiring fittings. The resin can be utilized in tubing form for fluid transfer applications that require excellent chemical resistance or air passage. PTFE is non-flammable and resilient in a wide range of temperatures, ranging from cryogenic low temperature to 500 °F (260 °C).
PTFE is a high temperature option for wire harness insulation due to its dielectric strength. It is also very lubricious, providing dry lubrication solutions for a variety of applications such as fuel hoses or other fluid tubing lines. The resin can stand up to wide temperature variances with a working temperature range of up to 500 °F (260 °C) to -454 °F (-270 °C). PTFE is chemically resistant for critical fluid transfer, possesses UV resistance and can be produced in a variety of shapes and customized options.
The chemical resistance, mechanical integrity and high maximum temperature resistance of PTFE are ideal for critical fluid transfer. It can handle a wide range of acids, bases and solvents. PTFE is inherently pure, making it an excellent material selection for pharmaceutical applications that require a high degree of purity.
In heat shrinkable form, PTFE provides great electrical insulation and chemical resistance. These attributes serve it well as a splicing aid at high continuous service temperatures up to 500 °F (260 °C).
The lubricity of PTFE provides a perfect material for easily sliding over fiber optics without damaging the delicate fibers. Zeus can extrude PTFE into Sub-Lite Wall® Heat Shrink for splicing fiber optics. The material is UV resistant and can operate in a variety of extremes from cryogenic low temperature to up to 500 °F (260 °C) without significant linear expansion. PTFE is chemically inert and can be compounded with other materials such as glass - that when extruded with customized designs - can offer accelerated bonding ability without sacrificing lubricity along the tube's ID. This material can also be formed into shapes and multi-lumens, allowing multiple channels of fibers to be encapsulated in one OD. Our PTFE Convoluted Tubing (Mil Spec 81914) often houses and protects delicate fibers.
PTFE is the most lubricous fluoropolymer, positioning it as an ideal material for a variety of industries. One industry benefitting from PTFE is 3D printing. In this application, PTFE is utilized in a tube form because its lubricity guides filament to the die head to make parts or transport liquids. The material is chemically inert and can have color added for identification.
Due to the lubricious nature of PTFE, it is popular for a variety of medical applications. PTFE Sub-Lite-Wall® is used for lining the ID's of catheters as it allows for easier access through a tortuous pathway in the body. The material may be supplied etched on the OD in order to allow better bondability with other materials. PTFE can be manufactured in a variety of multi-lumen configurations, which can allow for additional passage ways within a medical device to pass wire guides, irrigation, steering cables and more. PTFE Sub-Lite-Wall® Heat Shrink improves the lubricity of wire guides over long lengths for use in endoscopy applications. Zeus is able to supply the heat shrink over customer-supplied wires.
In addition, PTFE samples are available upon request and can be sourced with flares, flanges, draw downs, drilled holes, or a combination of more than one secondary and value-added service.
Learn more about our Secondary and Value-Add services.

Play PTFE Extruded Tubing Video
---