"HEALTHCARE PINK" Introduced for EV30 Foam Line
Product Announcement from Zotefoams, Inc.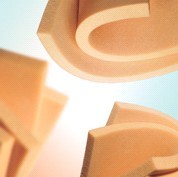 Walton, KY - Zotefoams Inc., the world's leading manufacturer of cross-linked block foams, has responded to the requests of medical-industry professionals by adding "Healthcare Pink" to the list of available colors in its Evazote® EV30 foam line.
Plastazote® polyethylene foam from Zotefoams has been available for many years with a "Healthcare Pink" color option as it is the most requested color for medical and health-care applications. Now, the Evazote EV30 grade foam has also been made available in this popular color. Evazote foams are used for a wide variety of medical and health-care applications, from diabetic insoles to prosthetics, and cervical collars to medical packaging. Evazote EV30 is ideal for these applications because it is an ethylene co-polymer foam that is tougher and more resilient than polyethylene foams, yet has a softer feel.
Azote® foams from Zotefoams are the most cited thermoplastic foam materials in medical literature. They are exceptionally pure, exhibit excellent resistance to chemicals, ointments and lotions, and are MRI, CT and X-ray lucent. These properties are a result of Zotefoams' unique manufacturing process that uses pure nitrogen to expand the foam.
For more information, please contact Michael Roedersheimer at (859) 647-5561 or e-mail mjr@zotefoams.com.
You have successfully added from to your part list.
---