Product Announcement from Boca Bearing Company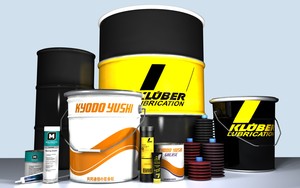 Industrial lubricants are oils, greases and other substances designed to reduce friction, binding or wear. Specialized characteristics may enhance thermal conduction or reduce electrical resistivity. Other industrial lubricants can provide sealing against moisture. Industrial lubricants are available in many forms such as low viscosity oils, high viscosity greases, waxes and solid lubricant powders. Lubricating oils often consist of natural oils, synthetic silicone oils, petroleum based compounds, or combinations with wax.
Industrial lubricants additives are chemical substances that are added to fluids to improve specific properties. Extreme pressure (EP) lubricants, for example, use active additives to provide a layer capable of withstanding high loads. Greases are thick, high viscosity substances that do not run off surfaces. Micro-dispersions are oils or lubricating fluids that contain solid lubricant particles in an oil base. Solid lubricants are designed to reduce friction, binding or wear; exclude water; or provide other special characteristics.
Boca Bearings can also supply specialty lubrication like Ultra Dry Lubricant, Polymer Solid Lubricant and Graphite Lubricant ideal for food grade and medial applications.
Product Links:
More Bearing Lubrication, Tools & More >>
More About Boca Bearing Company: Since 1987, one of our primary goals at the Boca Bearing Company has been to maintain the world's largest inventory of miniature bearings in all of the most popular metric and inch sizes. We also have an extensive inventory of special sizes and styles, including ceramic hybrids, full ceramics, specialty coatings, lubrication and more. Currently, the Boca Bearing Company has over 6000 different sizes and well over 4 million items in stock. We have no minimum orders and ship 99% of all orders within 24 hours.
You have successfully added from to your part list.
---