CFM 08 Valve
Product Announcement from co-ax valves inc.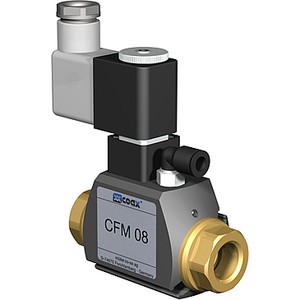 2/2 way valve externally controlled
pressure range PN 0-40 bar
orifice DN 8 mm
connection thread
design pressure balanced, with spring return
details needed for valve manifold
? orifice
? port
? function NC/NO
? operating pressure
? flow rate
? media
? media temperature
? ambient temperature
? type of actuation
details needed for pneumatic actuation
? nominal voltage
? type of protection
? actuation pressure range min/max
? low wattage coil, actuation pressure range 4-7 bar
? pilot valve type
For over 45 years, the coaxial valves developed by our company have formed a tried and tested element in the control of vacuums and gaseous, liquid, gelatinous, abrasive, contaminated, and aggressive media.

The coaxial valve design allows - as compared to conventional valves - high pressure media to be controlled at high flow rates. Our coaxial valves are available in 2/2 way or 3/2 way versions with threaded or flanged connections. The valves are actuated either by direct-acting solenoid or externally controlled.
orifice DN8
pressure range 0 - 600 psi
cv-value 1.86 gpm
pneumatic actuation
---