Pressure Control Valves
Product Announcement from co-ax valves inc.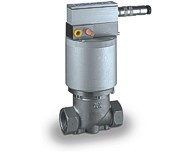 Directly controlled and pneumatically actuated pressure control valves provide continous, stepless pressure regulation. Adjustment time between pressure settings is less than one second. Regulated pressure remains constant regardless of system conditions. Pneumatically actuated pressure control valves are adjusted by either proportional control valve (requires 0 - 10 V control signal) or manually. Complete isolation of the control section from the media makes them insensitive to dirt.
---