The DRV vacuum valve by co-ax
Product Announcement from co-ax valves inc.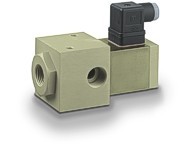 In applications where vacuum is used to lift and transport items such as steel sheets, glass and paper.
Steel and glass vacuum lift systems are usually located in an open plant environment while paper handling can also be part of a printing press, or packaging or mailing machines where the paper is loaded into the machine then transported from station to station
The working environment is always dusty, and that dust gets into conventional valves by the nature of the system being a under vacuum. This causes conventional valves to stick, leak, or otherwise fail.
Co-ax® DRV vacuum valves use a large resilient poppet which makes them virtually insensitive to the dusty, dirty environment they are installed in.
DRV valves are direct acting, eliminating internal pilot orifices that clog causing the sticking, leaking, failing.
Our 3/2 way design allows the employment of a low pressure 'blow-off', which allows the piece being moved to be released quicker since it's not necessary for the vacuum to bleed down throughout the entire system before the part being moved can be released.
We also offer impulse versions; these require only a momentary signal to cycle the valve which is then held in position with permanent/latching magnets.
---