VMK 20 - PowerTube technology
Product Announcement from co-ax valves inc.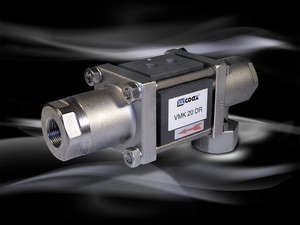 Pendell, PA (September 2007) – Now, co-ax valves' PowerTube™ technology is built into its VMK 20 range of co-ax® valves. This is the same technology that's built into the valves the company supplies to some industrial turbine OEM's for precisely admitting fuel to industrial power turbines with positive open/closed performance measured in milliseconds.
The range of VMK 20 coaxial valves is a low profile design that's impervious to contaminants and pressure imbalances in the system. And, because the valve's power tube self-compensates coaxially for wear, it's a leak free, low maintenance workhorse.
Its especially suited for high cycle applications requiring positive shut off performance like dosing, dispensing and filling applications – especially where the flow is viscous, abrasive or prone to clogging.
---