cx-tec: Standardized coaxial solenoid valve
Product Announcement from co-ax valves inc.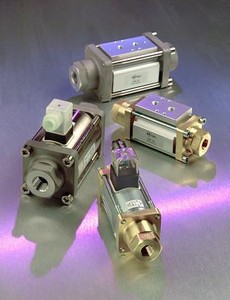 For over fifty five years, the co-ax® solenoid valves have proven to be a reliable, maintenance-free alternative to less dependable conventional valves. These compact valves with a straight-through flow path, have been the preferred choice for difficult applications due to the ability to custom configure the valves to solve specific application problems.
Now available in configurations to suit most commonly seen media, with coils that NEVER burn out, and the same high-performance, maintenance-free, straight-through technology is the more economical version of the technology called cx-tec®.
cx-tec® solenoid valve technology is a direct-acting design with a straight-through flow path that requires only small deviation in media flow. This design not only eliminates internal pilot orifices, but provides high flow rates with very low pressure loss, and extends cycle life by as much as ten times that of conventional valves.
In addition, the cx-tec® valves are pressure balanced meaning the valves function is not affected by system pressure or pressure differential.
The cx-tec® technology works with the forces of flow instead of against them, and is therefore suitable for most gaseous, gelatinous, pasty, contaminated, or recycled fluids and gases from vacuum to 600 psi.
cx-tec® provides a reliable, high-cycle life alternative to conventional valves that require frequent maintenance or replacement.
---