Product Announcement from Del-Tron Precision, Inc.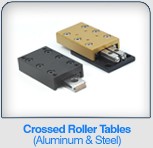 Del-Tron's crossed roller tables are known for their high accuracy and exceptional load carrying capabilities. Our crossed roller bearings are available in both aluminum and steel, and the perfect choice for applications where these criteria must be met. Accuracies range from 0.0001" per inch of travel straight line accuracy on our aluminum tables to 0.00008" of parallelism on our steel crossed roller tables and are capable of carrying loads in excess of 2600 lbs. Our aluminum crossed roller tables are available with both inch and metric mounting holes. You can choose from our low profile LPT series with its 3 rail design or opt for our Gold Motion series with its flanged base and 4 rail design. Both are available with stainless steel crossed roller rails and roller cages for applications where corrosion resistance is a requirement. For vertical applications or applications involving high acceleration or deceleration forces you may want to consider our Anti-Creep crossed roller tables. These units employ a rail and roller cage design that eliminates roller cage migration or slippage due to load orientations or acceleration forces. For your convenience solid model drawings for our entire product line are available on our website and we are always ready to discuss any special needs or modifications you may require. Additional industry terms include cross roller bearings, linear bearings, roller slides, and more generally as linear slides.

• High accuracy and load capacity. Precision ground V grooved ways and rollers
• Withstands force in any direction. Alternately crossed rollers 45º angle
• Easy Installation. Threaded mounting holes in standard pattern
• Interchangeable with other manufacturer's slides
• Factory preloaded for minimum axial play and low coefficient of friction
• Corrosion resistant and Anti-Creep technology available on our aluminum tables
Del-Tron Precision, Inc. was founded in order to serve the needs of automated equipment manufacturers for innovative, high quality and reasonably priced anti-friction linear bearings. For over 30 years, we've manufactured linear motion products we've categorized into nine distinct family groups. Industry terms for our products include: linear slides, ball slides, linear ball slides, linear bearings, crossed roller slides, cross roller bearings, positioning stages, linear positioners, XY stages, micrometer slides, roller slides, linear actuators, ball screw actuators, belt drives, belt drive systems, lead screw actuators, crossed roller bearings, linear motion slides, slide guides, and crossed roller tables, among others.
You have successfully added from to your part list.
---