Product Announcement from Del-Tron Precision, Inc.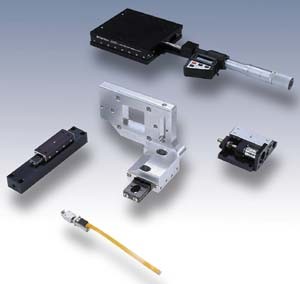 Modifications:
Del-Tron Precision performs modifications and develops prototype linear bearings quickly and cost effectively. Through holes, dowel pins, special threads or locations, slots, and changes to height, width, length and travel are available to conform to whatever special need your application demands.
Integration:
Del-Tron's Linear bearing design is simple and adaptable. The hardened steel bearing components are manufactured separately from the aluminum base and carriage. Because of this we can integrate our base or carriage into your design producing a linear bearing that is part of the subassembly instead of a discrete component.
This serves to reduce parts, fasteners and tolerance buildup, simplifying design and assembly. Vacuum applications:Out-gassing of slide components can be reduced or eliminated for vacuum applications by eliminating anodized and oxided finishes, labels, lubricants and non-metallic retainers.
Static sensitive applications:Del-Tron's "ESD" electro less nickel-plated linear bearings are made to ASTM standard B 733-79. The plating allows static charges to dissipate.Material and finishes:Many slide materials and components can be changed to suit a particular situation. Balls, rollers, shafts and preload bars are available in 52100 type bearing steel, corrosion resistant 400 series stainless steel, or non-magnetic 300 series stainless steel. Different types and colors of anodized finishes are also available.
High Temperature Applications:
Del-Tron slides can be modified to operate in elevated temperature areas by the substitution of teflon, aluminum or brass retainers.
Lead Screw Drives:
"Posi-Drive"™ lead screw driven stages. Lead screws are a popular actuation method. Del-Tron can add external or internal lead screw or ball screw drive components to most of its slides. Couplings and motor mounts are included. Hand crank actuation is available as well as a large variety of motor mounts, leads and pitches.
Micrometer Head Drives:
One, two or three axis spring loaded positioning stages with ball or crossed roller bearing elements are available with a variety of options. Among these are locking micrometer heads, carriage locks and digital micrometer heads. Micrometer head drives locate and measure accurately to .001". Ultra-Fine differential micrometer heads offer resolution of 0.002" per revolution, reduction up to 508 to 1.
Pneumatic Drives:
Friction free air actuators utilizing airpot™ pneumatic actuators are ultra low friction devices designed to provide precise, repeatable motion at very high or low speed without seals or lubrication. They run clean and operate over a wide temperature range with no change in performance. The PNRE series requires less than 10 PSI to operate
Del-Tron Precision, Inc. was founded in order to serve the needs of automated equipment manufacturers for innovative, high quality and reasonably priced anti-friction linear bearings. For over 30 years, we've manufactured linear motion products we've categorized into nine distinct family groups. Industry terms for our products include: linear slides, ball slides, linear ball slides, linear bearings, crossed roller slides, cross roller bearings, positioning stages, linear positioners, XY stages, micrometer slides, roller slides, linear actuators, ball screw actuators, belt drives, belt drive systems, lead screw actuators, crossed roller bearings, linear motion slides, slide guides, and crossed roller tables, among others.
You have successfully added from to your part list.
---