Micro-Miniature Linear Slide by Del-Tron
Product Announcement from Del-Tron Precision, Inc.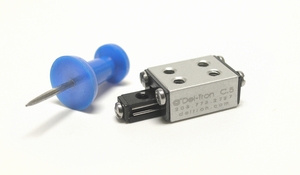 Del-Tron's newest and smallest member of its ball bearing slide assembly product line, the C-.5, consists of a lightweight aluminum base and carriage containing two rows of precision ball bearings separated by an engineering plastic retainer, rolling between four hardened and ground steel shafts on each side. Straight line accuracy is 0.005" per inch of travel and is controlled via an internal preload gib which controls looseness while assuring smooth repeatable reciprocation. The slide's preload and running characteristics can be controlled via a row of readily accessible adjusting screws on the side of the carriage.
The Deltron "Straight Line Design" makes possible the low stiction and friction characteristics Deltrons are known for unlike recirculating designs in which the rolling elements must turn corners and often slide against each other as they travel. Standard mounting holes are included in both the base and carriage for easy installation with only two fasteners. Del-Tron's innovative engineering staff and slide design allow the C-.5 to be adapted to the designer's subassembly thereby eliminating additional components, reducing design time and tolerance buildup. Modifications of many kinds can be readily incorporated into the slides. The C-.5 is available with a two week lead time for only $79.00 each with discounts for higher quantities. This subminiature slide can be used in many types of automated industrial and laboratory equipment including fiber optic components, diagnostic medical testing instruments, semiconductor processing machinery and pick and place mechanisms. They are ideal for any application in which lightweight, accurate and frictionless movement is desired.
Specifications:
Height: .23 (5.8) Width: .33 (8.4) Travel: .384 (9.75) Length: .524 (13.31) Load Capacity: .75 lbs (.34 Kgs.)
For more information, contact Del-Tron by phone at 800-245-5013, by fax at 203-778-2721or by email at deltron@deltron.com for a free 90 page technical product guide detailing available sizes, specification and prices. The CD-ROM version of the catalog features the ability to select products automatically by inputting application criteria and CAD drawings that can be viewed and imported into an existing drawing.
Del-Tron Precision, Inc. was founded in order to serve the needs of automated equipment manufacturers for innovative, high quality and reasonably priced anti-friction linear bearings. For over 30 years, we've manufactured linear motion products we've categorized into nine distinct family groups. Industry terms for our products include: linear slides, ball slides, linear ball slides, linear bearings, crossed roller slides, cross roller bearings, positioning stages, linear positioners, XY stages, micrometer slides, roller slides, linear actuators, ball screw actuators, belt drives, belt drive systems, lead screw actuators, crossed roller bearings, linear motion slides, slide guides, and crossed roller tables, among others.
---