DPS3 Heated Dew Point System
Product Announcement from Edgetech Instruments Inc.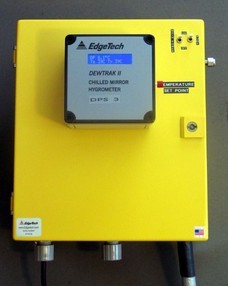 DPS3 from EdgeTech is a heated dew point hygrometer that can measure dew points up to 95 °C (203°F) and as low as -35 °C (-31°F).
This integrated system includes a microprocessor based electronics, a chilled mirror dew point sensor, a sample flow meter/valve, a 3 foot heated sample line, assorted tubing and fittings all contained in a heated, temperature controlled NEMA-4 enclosure.
Specifically for the Food & Beverage, Furnace and Semiconductor markets, this heated sensor allows the measurement of high dew points that are above ambient temperature. Without the heated system condensation would occur and measurements could not be taken.
---