Single Turn Absolute Encoders - Model SA36S
Product Announcement from Encoder Products Company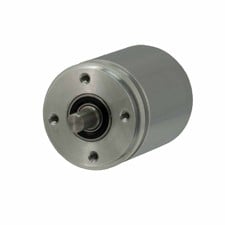 The Model SA36S Single Turn Absolute Accu-Coder™ is ideal for a wide variety of industrial applications that require an encoder with the capability of absolute positioning output. Its fully digital output, rugged magnetic technology and high sealing make the Model SA36S and excellent choice for all applications, especially ones with a high presence of noise. Available with a 1/4" or 6 mm shaft and a servo mount, the Model SA36S is easily designed into a variety of applications.
Design Features
- Standard Size 36 mm Package (1.42")
- Durable Magnetic Technology
- SSI and CANopen Communications
Applications
Robotics, Telescopes, Antennas, Medical Scanners, Windmills, Elevators, Lifts, Motors, Automatic Guided Vehicles, Rotary and X/Y Positioning Tables
Also available in Model MA36S Multiturn Absolute.
---