Product Announcement from Gurley Precision Instruments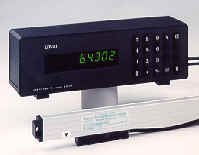 Together, the Gurley Precision Instruments VL18 linear encoder and DVL digital readout form a measuring system that provides both human-readable and computer-compatible absolute position information. Complete 1-meter systems are less than $1500 each in batches of 10.
The model VL18 combines the opto-mechanical simplicity and ruggedness of incremental scale construction with the remarkable advantages of pseudorandom encoding. Utilizing Gurley's unique Virtual Absolute™ technology, the VL18 is more reliable than any conventional absolute or incremental linear encoder offering comparable 1 m m resolution and 3 m m accuracy.
After an initialization traverse of under ½ mm, in either direction and starting from anywhere, the VL18 is absolute. Its 20-bit resolution covers measuring lengths up to 1.048576 meter, at speeds up to 2 m/s. The end-mounted VL18 has a standard cross-section of 18 mm x 46 mm (0.71" x 1.81"), and is protected to IP 53 by an aluminum extrusion and rubber sealing flaps. Positive pressure fittings are a low cost option enabling protection to be upgraded to IP 64.
The DVL employs built-in-test functions not possible with conventional encoders, which take advantage of the VL18's pseudorandomly encoded scale. It not only detects common encoder malfunctions like fouled or damaged scales, pinched wires, and end-of-travel collisions, but it can also help identify system-level problems such as excessive temperature, speed, or electrical noise interference.
The model DVL displays position or speed in English or metric units and includes an RS-232 output port for transmitting the displayed data to a computer on demand. Standard keypad functions are provided including a user-entered measuring position offset which is stored in non-volatile memory.
Gurley is an ISO9001-Certified company that offers rotary and linear optical encoders and related accessories. You can see their wide selection of incremental, absolute and Virtual Absolute encoders at www.gurley.com, or call 800-759-1844 for free applications assistance.
You have successfully added from to your part list.
---