O5C500 Color Sensor
Product Announcement from ifm efector inc.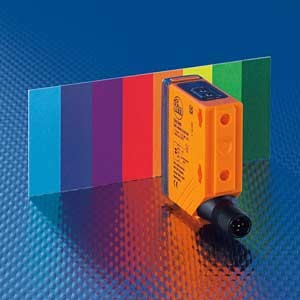 Verify, sort and error-proof the presence of objects by color with ifm's new O5 Series Color Sensor. The sensor uses reliable RGB technology to provide high-resolution detection of color in fast-moving applications. The sensor emits pulses of red, green, and blue light from the sensor's transmitter, and the receiver evaluates the pulsed light reflected from the target to determine the best color for identification.

A one-point teach method ensures quick setup. The O5 Series sensor includes five selectable tolerance steps to determine even the slightest differences in color shades.

A high switching frequency of 2,000 Hz provides accurate color detection in high speed applications. An autodetect output automatically sets a single switching output to PNP or NPN operation.

The sensor quickly mounts in an application using one of ifm's mounting brackets. Its connector rotates 270° for alignment in multiple directions.

Play O5C500 Color Sensor Video
---