OG Cube Sensor in Robust Metal Housing
Product Announcement from ifm efector inc.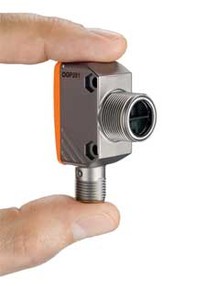 The OG Cube photoelectric sensor from ifm efector inc. provides high optical performance in a compact metal housing. The sensor offers reliable position detection in industrial applications such as conveying, packaging, material handling and automotive manufacturing.
More durable than plastic housings
The OG-Cube's robust metal housing withstands harsh industrial conditions and is more durable than traditional plastic housings. The sensor features metal M18 mounting threads that will not strip during mounting – a common challenge with plastic threads. The sensor's standard M12 connector resists high torquing and provides quick wiring.
Long sensing ranges, bright LEDs
Bright LEDs indicate operating status (power and output) making troubleshooting in applications fast and simple. A powerful visible red light source with a large spot diameter enables easy alignment for quick setup. The sensors are designed to provide long sensing ranges that increase the distance between the sensor and the target, preventing physical damage from fast-moving targets.
A variety of sensing options
For application versatility, the product family includes high-precision background suppression, long-range polarized retro-reflective, and thru-beam pairs.
Mounting brackets enable easy installation
For quick installation, ifm has designed two bracket systems for the OG-Cube and reflectors. With a full 360° adjustment, the mounting bracket kits enable both products to rotate in multiple directions to fit an application. Its flexibility simplifies alignment and eliminates the need to manufacture brackets in-house.

Play OG Cube Sensor in Robust Metal Housing Video
---