ifm Type 4 Safety Light Curtains
Product Announcement from ifm efector inc.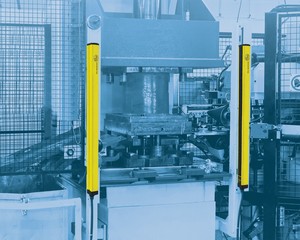 ifm offers a Type 4 light curtain for a Type 2 price, enabling our Type 4 light curtains to be used in all applications. By offering only Type 4 light curtains, we can cover a broad range of applications and allow for standardizing on a smaller number of models. Our Type 4 light curtains are avalable for both industrial and food & beverage applications.
Highest level of safety
ifm's Type 4 light curtains provide continuous protection, tighter effective aperture angle, redundant curcuitry and the highest maximum achievable safety level requirements.
Finger, hand, and body protection
The compact, low-profile safety light curtains are available in models for finger, hand, and body protection and have options available for muting and blanking applications.
Compact 28 x 30 mm housing profile
Slim housing design allows the safety light curtains to be mounted into tight spaces.
Hard wired configuration
ifm light curtains are fully configured via wiring, eliminating the use of breakable DIP switches or complex software.
Industry standard M12 connections
No need for special cables and connectors that have long lead times.
OSSD Outputs
Redundant safety rated solid state outputs have very fast response time.
User friendly diagnostics
Simple LED indication for power, system status, and fauly conditions.
---