ifm Vision Sensors Offer Smarter Error-Proofing
Product Announcement from ifm efector inc.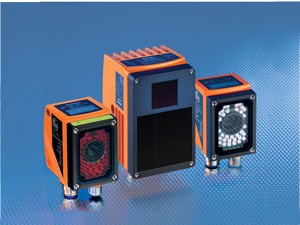 ifm offers a versatile line of vision sensors that can solve a variety of error-proofing and inspection applications throughout the industrial automation process. ifm has applied practical innovation to simplify complex vision technology. The result is a product family that offers robust housings, simple setup, and reliable performance at a great value.
The ifm Vision product line includes:
• ifm Multi-Code Reader - identifies data marix and 1D codes
• efector dualis Inspection Sensor - detects and compares defined shapes
• 3D Image Sensor - evaluates shape, size and volume in 3D
ifm's Multi-Code Reader
Data Matrix codes are critical for tracking and insuring reliable quality in the manufacturing process. ifm's Multi-Code Reader is designed to identify, veritify and qualify 2D data matrix codes and 1D bar codes. Multi-Code Reader application examples include:
Laser-etched DMC code on glass. Laser-etched code on PVT panels and glass can be difficult to read due to low contrast. ifm's Multi-Code Reader's integrated lighting and CMOS image sensor can identify low-contrast codes.
Printed DMC code on plastic parts. Printed code on plastic parts can wear or disintegrate over time. ifm's Multi-Code Reader reliably detects printed codes that become damaged or soiled – even if up to 25% of the information is damaged.
ifm's efector Dualis Inspection Sensor
ifm's efector Dualis Inspection Sensor can provide 100% inspection throughout the assembly automation process. The sensor detects, evaluates and compares an object to a pre-defined shape for reliable error-proofing. efector Dualis Inspection Sensor application examples include:
Assembly monitoring. The efector dualis inspection sensor can identify incorrect orientation of parts in a feeder bowl before they are applied.
Object character evaluation. The sensor detects a series of preset characters that indicate expiration date. If a character is missing the sensor sends an alarm.
ifm's 3D Image Sensor
ifm's 3D Image Sensor evaluates the size, shape and volume of objects in three dimensions. The sensor provides critical information such as conveying, material handling, level and intelligent routing/sorting. 3D Image Sensor application examples include:
Palletizing and de-palletizing. A robotic arm stacks material on a pallet. If a stray box is left on the skid, the robotic arm could crush the product. ifm's 3D sensor evaluates the entire layer of a pallet and sends an alarm output based on loading errors.
Bulk material level. Material such as grain can shift within a bin creating hills and valleys that can lead to incorrect level detection. The sensor's pixel array spreads across the grain to detect high and low points and provide a more accurate indication of level.
---