Product Announcement from igus® inc.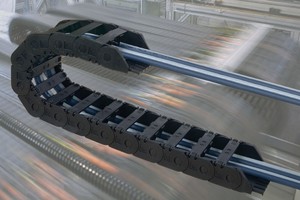 Data cables boast even smaller bending radius
igus® now offers its Chainflex® CF11 and CF211 continuous-flex data cables with a smaller bending radius for demanding, flexing applications on all types of automated machinery. The new flex cables can be used for smaller machines to save space, while still delivering high speeds and a long service life.
igus tested the Chainflex CF11 and Chainflex CF211 cables over a two-year period in its test laboratory. The company's engineers paid special attention to how the design of the cable shield, different pitch lengths and individual conductor sizes affected service life. Each cable performed more than 30 million cycles, a total travel distance of 22,799 miles, while housed inside an Energy Chain® cable carrier. Neither cable suffered any damage during the testing, which used a bend radius of five times the diameter. As a result, igus was able to reduce the minimum bend radius of Chainflex CF11 by 32 percent, from 10 times the diameter to 6.8 times the diameter, and the minimum bend radius for Chainflex CF211 from 10 times the diameter to 7.5 times the diameter, a decrease of 25 percent.
Chainflex CF11 data cables feature an oil-resistant TPE-blend outer jacket. Thanks to the stability of its copper shield and stranded conductor, Chainflex CF11 delivers high-quality data transmissions, even with the much smaller bending radius. The same is true for Chainflex CF211, the lower-cost PVC version.
igus' line of Chainflex continuous-flex cables are available from stock with minimum no order. To request a free sample, visit www.igus.com/quickorder.
You have successfully added from to your part list.
---