Product Announcement from Interface, Inc. - AZ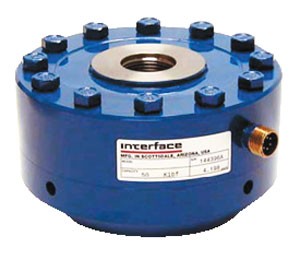 INTERFACE'S COMMITMENT TO EXCELLENCE
Interface High Accuracy Load Cells and Torque Transducers not only meet our published specifications, but exceed most.
Every transducer we manufacture is individually tested and calibrated (no sampling).
Performance guarantee: Our load cells will outperform our competitors' load cells.


Our Gold Standard™ Calibration System is just that: the gold standard, the only comprehensive system available that allows companies to calibrate their load cells. (Used by many calibration labs and some of our competitors to calibrate their load cells)


EVERY cell we make is individually tested and calibrated (no sampling).


Temperature characteristics are tested at both low and high temperature.


Self-temperature compensating strain gages manufactured from proprietary alloy.


Cells are creep tested to the tightest specification in the industry.


World's largest producer of low profile load cells. Each uses eight gages to assure highest accuracy and each is moment compensated to minimize sensitivity to extraneous loads.


Higher output (up to 4mV/V output on low profile load cells).


Our vertical integration means shorter lead times, better quality control and lower costs. Many of our competitors farm out their CNC work, for example, but our machining is programmed directly from the same software used to design the load cell.


Most Interface load cells in our catalog are stocked for immediate shipment.


Custom Force Transducers - We will work with you to provide precisely what you need quickly and cost-effectively.


PROPRIETARY INTERFACE STRAIN GAGES

Unique Formulation, Made In-House
Interface load cells are constructed with strain gages manufactured by Interface from a unique proprietary alloy which provides inherently temperature compensated output. They are manufactured in our facility, in order to provide the necessary strict control of the formulation and the forming process.


Matched Temperature Characteristics

The temperature characteristic of the strain gages is adjusted by special processes to exactly match and counteract the temperature characteristic of the modulus of the load cell structural material, thereby providing output which is relatively temperature insensitive. The bridge circuit is simple, reliability is high, and changes in output sensitivity caused by temperature variations are automatically compensated.

By contrast, competitive load cells use strain gage alloys which require the addition of temperature sensitive resistors in the bridge circuit for compensation, thus reducing reliability. Since the resistors aren't in intimate thermal contact with the cell's flexure, the dynamic thermal performance, resistance to thermal gradients, and thermal response times are also severely affected.

Industry Leadership Carries a Responsibility for Service Leadership
You don't have to be an expert in force measurement ... because we are. Talk to us about what sort of forces or torques you need to measure, and under what conditions and constraints. We'll walk you through the load cell specification process - quickly and efficiently. Our Application Engineers are ready to help.
*** See our high accuracy low profile family: Models 1100, 1200, 1600, and 1800 ranked best in class for accuracy
You have successfully added from to your part list.
---