Product Announcement from Interface, Inc. - AZ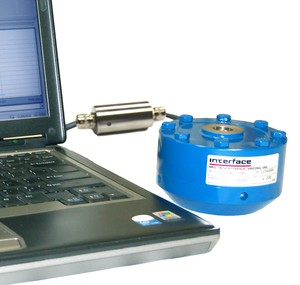 ADD USB TO ANY INTERFACE TRANSDUCER
INF-USB provides an easy interface for collecting data from an Interface transducer directly into your computer. Included software works well for convenient testing and monitoring applications benefiting from immediate evaluation or collection for later research.
Why the Interface series INF-USB Universal Serial Bus Output Module is the best in class:
Easy USB connection to computer from Load and Torque Transducers
Transducer data logged into MS Excel compatible CSV file format
Fast 5000 Hz Sample rate
Graphing and Logging software included
16-bit resolution
Shunt Cal trigger via software
Works with mV/V, ± 5V DC and 4-20mA output transducers
Environmentally sealed to IP67

*Module shown with the SSM load cell forillustration only (no load sensor included)
System includes one INF-USB output module and PC-compatible software.

INPUT SPECIFICATIONS


INF-USB2-A
Use with Rotary Torque or any ± 5V output sensor
Input Range: ± 5 V DC
Excitation: 12v, max 80 ma
Resolution (counts): ± 25,000
Input Resistance: 1.3 MΩ

INF-USB2-B
Use with any 4-20mA or 0-20mA output sensor
Input Range: 0/4-20 mA, 10 ± 10 mA, 12 ± 8 mA
Excitation: 12V, max 80 mA
Resolution (counts): ± 20,000
Input Resistance: 62 Ω

INF-USB2-C
Use with any load cells, reaction torque or any mV/V output sensor
Input Range: ± 3 mV//V
Excitation: 4V, max 20 mA
Resolution (counts): ± 30,000
Input Resistance: 200 GΩ
You have successfully added from to your part list.
---