Product Announcement from Interface, Inc. - AZ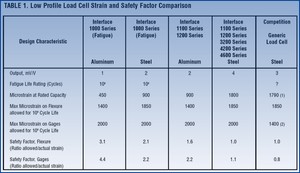 INTERFACE LOAD CELL FATIGUE THEORY

Background
Interface has specialized in fatigue-rated load cells and their applications since its founding in 1968. Fatigue rating is a distinct specification which guarantees the customer a load cell which has a service life of 100 million fully reversed loading cycles at full rated capacity.
The very first products at Interface were fatigue-rated load cells, and over the years a history has been built up by thousands of cells in use all over the world. Many have been supplied to major manufacturers of materials test machines and to major aerospace manufacturers, for use in long term structural fatigue test programs on aircraft, space, and automotive equipment.

Note: No fatigue failure of any fatigue-rated Interface load cell, used within its ratings, has ever been reported.

Fatigue Failure Theory
It is well known that metals will fail in a statically loaded situation if the yield strength is exceeded. Inasmuch as load cells are structural members which are stressed in the course of their normal use, they are commonly given ultimate overload ratings in an effort to characterize the magnitude of static load they will withstand without failing structurally.
However, all metal structures, including load cells, are also subject to failure as a result of repetitive loadings which are much lower than the ultimate overload rating. This phenomenon is known as a fatigue failure, and it is due to the fact that the stress which a metal can withstand under cyclic loading usually becomes less and less as the number of cyclic loadings is increased.
The cause of this apparent anomaly can be explained by noting that metals are typically not perfectly homogeneous solids. They are composed of crystals, and at locations called grain boundaries, along slip planes or in a region of a microscopic defect there can be minute strains under load which do not completely reverse during unload, leaving the material with a slight plastic deformation at the end of each complete cycle. This effect is highly dependent on the magnitude of the load and the number of cycles.
*** Review the Interface 1000 Fatigue Rated Load Cell Family rated best in class up to 50K lbf ***

Anatomy of a Fatigue Failure
It is generally acknowledged that a structural fatigue failure develops in three stages:
Repeated cycling builds up local plastic deformation, and a microscopic crack is initiated.


The crack propagates and a larger section becomes weakened.


Stress concentration in the section of cracking increases rapidly, and continued cycling enlarges the crack until sudden fracture occurs.

Fatigue Life Prediction
Accurate prediction of fatigue life of any structure is not a reality. Well controlled tests on the most simple configurations of test specimens result in a wide scatter band of results. With complex structures typical of a load cell, analysis is even more complex. Theoretical analysis can produce approximations, however, which can be useful in estimating the margin of safety at which a particular load cell design is operating.
In materials science, the S-N curve is a well known tool. It is a graphical representation of the number of load cycles required to break a specimen, at a range of peak cyclic stress levels. S-N curves for the high quality materials used in Interface load cells have been experimentally determined, and are shown in Figure 1 for stainless steel and alloy steel, and in Figure 2 for aluminum alloy.
Thus, if the stress level is known, the fatigue life can be approximately known. However, there are factors which make fatigue life difficult to characterize.
You have successfully added from to your part list.
---