HygroPort Portable Hygrometer
Product Announcement from The Kahn Companies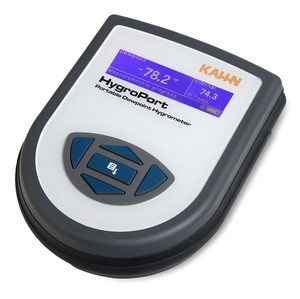 Kahn Instruments, Wethersfield, CT, a leading manufacturer of advanced moisture-measuring instrumentation, is proud to introduce the new HygroPort Portable Hygrometer. The HygroPort has a dewpoint measurement range of -148F to +68F, accuracy to +/-1.8F and is smaller, faster-responding, more versatile, lighter-weight and lower priced than other hygrometers of comparable performance.
HygroPort is a fast-responding, easy to use, portable hygrometer for measurement of dewpoint and moisture content of compressed air and other gases. The instrument utilizes a sophisticated microprocessor architecture and easy-to-use menu driven software, coupled with state of the art electronics and the advanced Kahn Ceramic Moisture Sensor. The dewpoint sensor, which is highly resistant to contamination, operates as a capacitor sensitive to very small changes in water vapor pressure. The capacitance of the sensor is monitored continuously, pressure and temperature compensated, linearized, and displayed in dewpoint degrees C, F, K, %RH, grams per cubic meter, grams per kilogram, PPMv, PPMw (air, nitrogen, hydrogen, CO2, SF6, or user defined).
New and improved features of the HygroPort include:
Extremely fast, repetitive dewpoint measurements: -95F dewpoint in 10 minutes or less
The first portable to utilize Bluetooth wireless connection technology
Improved NimH battery for up to 48 hours usage between charges
Data logging capability up to 320,000 points
Internal and external sensor connections
Lightweight -- less than 3 pounds
Rugged NEMA 4 enclosure
Intelligent battery charger
An FM and CSA certified intrinsically version will be available later this year.
The HygroPort can be used in numerous moisture measurement applications, including compressed air monitoring, desiccant and refrigerant dryer testing, high voltage switchgear SF6 testing, industrial furnaces and heat treating, environmental test chambers and bottled gas moisture content verification.
The HygroPort's calibration is traceable to the National Institute of Standards and Technology and a certificate of calibration is supplied with the instrument. Both the instrument and the sensor calibration are warranted for one full year.
---