SERIES 100 Hydraulic Dynamometers for Load Testing
Product Announcement from The Kahn Companies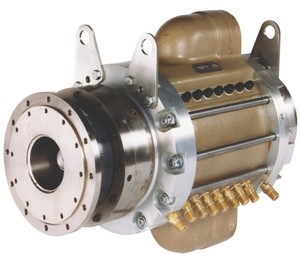 Features:
Compact, base mounted units with high power to weight ratio
Self centering polygon connection between shaft and rotors permitting quick overhaul
Hardened stainless steel power elements providing superior resistance to cavitation and corrosion
Individual water supply to each rotor providing excellent operating stability
Double ended, hardened stainless steel shaft
Spring loaded, oil jet lubrication high speed ball bearings
Water cooled carbon face seals
Built-in flexible o-rings joints in water inlet and outlet lines
All service lines terminated in bulkhead fittings on base
Full power absorption in both directions of rotation
Designed primarily for steady-state and transient performance testing of high speed turbo shaft engines, the Kahn Series 100 product line includes five standard models capable of absorbing up to 7000 hp (5220 kW) and operating at rotational speeds up to 23,000 rpm.
Proven in engine test facilities around the world, the Series 100 offer long service life coupled with minimum maintenance requirements. All units are fully compatible with advanced, fast-response FADEC (Full Authority Digital Electronic Control) engine control systems and meet or exceed the test specifications of the following turbo shaft engines:
Honeywell ASE40, ASE50, T55, TF40, TF50
General Electric T58, T64
Isotov TV2-117, TV3-117
Rolls-Royce Gnome.
---