Product Announcement from MICROMO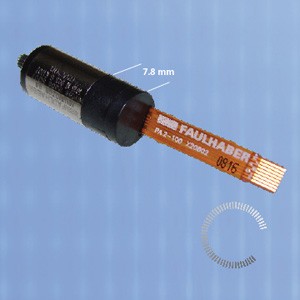 MICROMO announces the expansion of its encoder product line with the addition of its PA2-100. Leading the way again in miniature motor feedback development, MICROMO now provides a high-resolution, low current-draw optical encoder in a 10mm and 12mm diameter package.
Blending the best technologies, the PA2-100 expands possibilities for applications requiring miniature motors with encoders. By incorporating the "world's smallest optical encoder", Avago's AEDR 8400 provides consistent, accurate, and high resolution not to be matched by magnetic encoders. Optimized for the AEDR 8400, a custom-designed codewheel maximizes the reflected light increasing the system's efficiency and signal reliability.
The PA2-100 raises expectations by using leading-edge technologies. Moving beyond magnetic technology, the PA2-100 provides an impressive 100 lines per revolution before quadrature utilizing optical technology. Operating between 2.7 to 3.3V DC, low-voltage battery applications continue running longer with more robust feedback signal reliability. Improved battery life comes from a low-inertia codewheel and a battery-friendly current draw of 8.5mA.
PA2-100 encoders assembled to 10mm and 12mm diameter coreless motors are immediately available from stock with a 24 - 48 hour turnaround.
For additional information and samples please contact a MICROMO Application Engineer at 800-807-9166 or send an email to info@micromo.com or visit the website at www.micromo.com for more information on the PA2-100 click this link.
About MICROMO and the FAULHABER Group
Headquartered in Clearwater, Florida, MICROMO is the North American source for the world's smallest high precision DC drive systems, components, and controls. MICROMO is a member of the FAULHABER Group which offers the world's largest consolidated portfolio of miniature and micro drive system technologies available from one partner in the world today. The Group specializes in the design and manufacture of complex, high precision miniature and micro drive systems for challenging areas of application like medical devices, handling automation, telecommunications, and precision optics.
You have successfully added from to your part list.
---