Capacitance Displacement Sensor
Product Announcement from MTI Instruments Inc.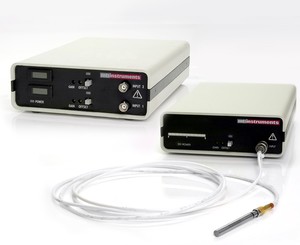 The Accumeasure 9000 and 9000D provides unparalleled accuracy, stability and repeatability for vibration, runout, displacement or position applications, such as X-Y Positioning, Machinery Dynamics, Wafer Mask and Lens Alignment, Leveling, Spindle Runout, Flatness or Profile Measurements.
Based on MTII's proven Accumeasure technology, the system provides a perfect solution for many measurements previously unattainable. The Accumeasure 9000/9000D particularly excels in measurements where the target is extremely small, and where the sensor needs a large operating range.
The Accumeasure 9000 and 9000D joins MTI's family of capacitance instruments, which also include rack mount and multi-channel systems. Like the other systems, the 9000/9000D can be used with MTI's full line of interchangeable capacitive probes.
Unlike eddy current probes, Accumeasure sensors are not influenced by the properties of the target material, temperature, or magnetic fields near the sensor. In addition Accumeasure sensors offer lower noise and less drift.
An integral power supply allows operation from any AC power source. Front panel BNC connectors are available for connection of all MTI standard and custom probe designs. 0 to 10V individual probe output signals, and the summed output signal, are available from rear channel BNC connectors. A bar graph display indicates the probe gap of each channel.
Applications
Flatness
Dimensional Gaging
Displacement
Step Height
Shaft Runout
Alignment
Thickness
Vibration
Micro-positioning
Features
Noncontact measurement with small probe sizes, including rectangular configurations
Nanometer resolution for ultra-precise measurements
Bargraph display of probe gap for quick reference of probe position
Built-in range extender expands the basic probe range by as much as 40 times
Single or Dual Channel models; with sum or difference outputs (Dual Channel)
0-10 V dc Analog output
Standardized output sensitivity of 1 microinch per millivolt
(9000D only) Front-Panel Digital Display, substantially reduces set up time, especially in production applications.
Specifications
Output Signal: 0 - 10 VDC output. Signal proportional to probe gap. Dynamic resolution 0.0000001 inch p-p (2.5 nanometer p-p). * Maximum range 0.5 inch (12.5 mm).
Frequency Response: 500 Hz @ -3db standard. 1000, 2000, 5000 Hz @ -3db optional. plug-in filter module boards.
Linearity: +/-0.05% or better over 10% to 100% of full-scale range using a standard 8-foot probe cable. +/-0.1% over 10% to 120% of full-scale range using a standard 8-foot probe cable.
Probe Voltage: Proportional to the probe-to-target gap, 9 V rms (25 V p-p) maximum.
* with ASP-1-Cta probe (1 mil range) @ 500 Hz frequency response with 8-foot cable.
MTI INSTRUMENTS Inc. Pioneers in Noncontact Measurement, MTI Instruments Inc. has been at the forefront of high-precision, noncontact measurement for more than 30 years. They offer fiber-optic, capacitive, and laser technologies designed to measure position, displacement, and vibration in the production process and in the laboratory.
MTI Instruments specializes in providing in-depth technical support before, during and after the sale. Their staff of application engineers and their worldwide network of factory-trained representatives are ready to answer your questions and solve your measurement needs.
You have successfully added from to your part list.

Play Capacitance Displacement Sensor Video
---