Solar Wafer Thickness Tool from MTI
Product Announcement from MTI Instruments Inc.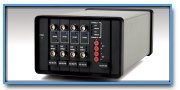 Solar Wafer Thickness Tool from MTI. The PV-1000 is a High speed, multi-channel thickness, TTV and bow measurement module for in-process monitoring of solar/photovoltaic wafers and other materials.
Outstanding accuracy, repeatability and stability are the hallmarks of MTI Instruments' non-contact measurement systems. The new PV-1000 series brings our 40+ years of precision measurement experience to a line of products specifically for the photovoltaic industry. Ideal for both process development and production environments, the PV-1000 solar wafer measurement module fits anywhere on the production line. Its modular design offers expandability to meet your current and future measurement requirements.
Using MTII's exclusive Push/Pull capacitance probe technology, each PV-1000 module provides up to three pairs of probes for measurement of maximum, minimum and average thickness, as well as total thickness variation (TTV) and wafer bow. For applications requiring additional thickness channels, multiple PV-1000 modules can be chained together for unlimited line scans on the wafer.
Wafer saw mark detection and classification is accomplished by adding optional laser sensors to the PV-1000 module. Utilizing up to two of MTII's industry leading Microtrak - SA standalone laser heads, saw marks can be classified for orientation and depth simultaneously with wafer thickness scanning making the PV-1000 ideal for incoming wafer characterization and sorting.
Integrated data acquisition and control electronics analyze and transmit wafer data via the on-board Ethernet port at speeds of up to five wafers per second. The digital I/O port allows communication with wafer handling equipment for up to 64 classes of wafer sorting and binning. Remote monitoring capabilities allow you to see your production line data across your network or directly at the module.
MTI Instruments is a worldwide supplier of precision non-contact physical measurement solutions, condition based monitoring systems, portable balancing equipment and semiconductor wafer inspection tools. MTI Instruments' products use a comprehensive array of technologies to solve complex real world applications in numerous industries including manufacturing, semiconductor, commercial/military aviation, automotive and data storage. Our products consist of electronic gaging instruments for position, displacement and vibration applications within the design, manufacturing/production, test and research markets; semiconductor products for wafer characterization of semi-insulating and semi-conducting wafers within the semiconductor industry; and engine balancing and vibration analysis systems for both military and commercial aircraft.
MTI Instruments is proud of the crucial role it has played with many of the world's largest companies whether it is in basic research, improved efficiency during production or quality control by offering solutions directly to the end-user or an embedded technology for leading OEM suppliers. Whatever you touch has probably been measured by MTI Instruments.
You have successfully added from to your part list.
---