Product Announcement from MTI Instruments Inc.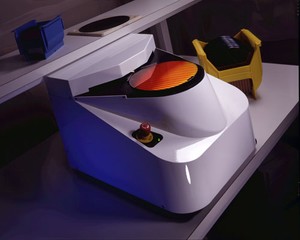 Semi-Automated Wafer Measurement System for Semiconducting and Semi-Insulating Material
The ProformaTM 200SA is a semi-automated thickness measurement system for both semiconducting and semi-insulating wafer materials. Capable of handling 75 to 200 mm. wafers, the 200SA provides highly accurate, repeatable measurements of thickness, TTV, bow, warp, site and global flatness. Built around MTI Instruments' exclusive Push-Pull capacitance technology, the Proforma 200SA delivers full wafer surface scanning at the press of a button. User defined and ASTM/SEMI scan patterns are used to generate a full 3-dimensional image of the wafer.
Easy to Use....
The standard Windows® user interface makes the Proforma 200SA easy to use and set-up. Each measurement and machine parameter is selectable from a list of standard options. The control software has three levels of security, from a production environment to a full engineering analysis of wafer geometry. Customized data reports, as well as the ability to export measurement data to any spreadsheet add the ability to match the Proforma 200SA to your process needs.
Wafer Specifications
Diameter: 75 mm, 100mm, 125 mm, 150 mm, 200 mm
Matreial: All Semiconducting and Semi-insulating including Si, GaAs, InP Ge, Sic
Surfaces: As-cut, Lapped, Etched, Polished, Patterned.
Conductivity: P or N Type.
Wafer mounting: Bare Wafer, Sapphire/Quartz Base, Tape.
Measurements
Thickness and TTV.
Bow.
Warp.
Site and Global Flatness
Advantages
Measures Different Materials such as, Si, Ge, GaAs, InP.
Full 1000 uM Thickness Measurement Range without re-calibration. Extended range models available for thickness range to 1.7 mm.
Standard Windows® User Interface.
You have successfully added from to your part list.
You need Flash player 8+ and JavaScript enabled to view the Wafer Measurement System from MTI Instruments video.
Get the Latest Flash player.
---