Heavy Duty Needle Roller Bearings
Product Announcement from RBC Bearings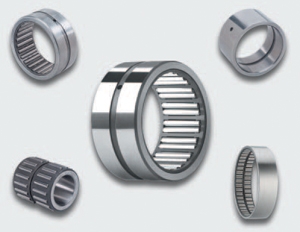 RBC Heavy Duty Needle Roller Bearings
RBC produces an extensive heavy duty needle roller bearing product line from 1 inch outer ring OD to 12.125 inch outer ring OD. RBC heavy duty needle roller bearings can be found in helicopter rotors and transmissions, marine crankshafts and connecting rods, gear pumps, oil field pumping jacks, mud pumps, and automotive applications.
The RBC SJ series of Pitchlign® heavy duty needle roller bearings are supplied in standard envelopes in both sealed and unsealed configurations.
RBC TJ TandemRoller® heavy duty needle roller bearings increase the capacity of the standard Pitchlign® SJ series from 10% to 40% while maintaining the standard SJ envelope. RBC inner rings can be used separately or as an inner race for complimentary SJ or TJ roller bearings. RBC produces metric roller bearings where volume permits.
RBC has had a long tradition of innovation, commitment, and quality since the company was founded in 1919. Today, RBC has grown into a world-class manufacturer of standard and custom-engineered bearings and related products, with a product focus on research, testing, and development of the best product for specific applications.
What RBC Manufactures
RBC Bearings, with divisions throughout the North America and Europe, provides bearings and precision products for applications in the construction, mining, material handling, transportation and off-highway equipment, robotics and automation, farming, machine tool, and semiconductor equipment industries. Through RBC Aerospace Bearings, the company is a major manufacturer of standard and special bearings and precision products for military and commercial aerospace applications.
RBC's high-quality bearings include:
• Heavy Duty Needle Roller Bearings - Pitchlign® caged heavy duty needle roller bearings, inner rings, type TJ TandemRoller® bearings for long life.
• Spherical Plain Bearings - Radial, angular, contact, high misalignment, extended inner ring, QuadLube® long life bearings, ImpactTuff® case carburized bearings, ShimPack® double-acting angular contact bearings, CrossLube® lubrication groove systems, SpreadLock® Seal, Fibriloid® self-lubricating bearings, and MillTuff® 3-part bearings.
• Cam Followers and Yoke Rollers - Standard stud, heavy stud, yoke type, caged roller followers, RBC Roller® long life cam followers, HexLube® universal cam followers, airframe track rollers. Mastguide rollers and carriage rollers, chain sheaves (for leaf chain), toothless sprockets (for roller chain), and heavy-duty roller bearing construction.
• Rod Ends - Commercial and aerospace, precision, Mil-Spec series, self-lubricating, inch and metric. Heim and Schaublin Unibal®.
• Self-Lubricating Bearings - Radial, thrust, rod ends, spherical plain bearings, high temperature, high loads, inch and metric. Fiberglide®.
• Thin Section Ball Bearings - Standard cross sections to one inch. Sizes to 40 inches. Stainless steel and other materials available. Seals available on all sizes and standard cross sections.
• Airframe Control Bearings - Ball bearing types, self-lubricating types, needle roller track rollers.
• Ground, Semiground, and Unground Ball Bearings - Full complement, utilizes design and burnished races for higher loads, long life, and smooth operation.
• Pins and Shafts - All types of pins, needles, shafts, and rollers.
• Tapered Roller Bearings - Case hardened in a variety of sizes, used in Class 8 heavy truck and trailer wheel bearings, final drive transmissions and gear boxes.
• Custom Designed Bearings - RBC produces a wide range of custom bearings in various materials for specific applications.
How RBC Can Serve You
RBC has implemented a total quality control system that uses statistical quality control at all facilities, and manufactures in high volume to a just-in-time program. To serve the ongoing needs of customers, RBC has a network of over 1,600 distributors and sales engineers throughout the US, Europe, and South America, with authorized agents worldwide.
---