The Patented Cylindrical Roller Cam Follower
Product Announcement from RBC Bearings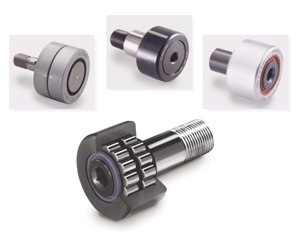 RBC Roller Cam Follower - The Superior Alternative
RBC cam followers are available in sizes from 1" in roller diameter - an industry exclusive.
Invented by RBC to solve some of the toughest machine and product control guidance challenges.
Double row of cylindrical rollers delivers tremendous operating advantages in an economical package.
Repair and replace cycle is greatly reduced - RBC Roller cam followers operate up to 5 times longer.
Lubricated for life - No more need for periodic relubrication or expensive automatic lubrication systems.
Operate at much higher rotary speeds - RBC Roller cam followers operate at speeds up to 2 times higher.
Increase load carrying capacity without increasing cam follower size - Up to double the dynamic load rating.
Unique contacting lip seals provide positive protection against contamination while keeping grease inside.
Specialty configurations (i.e., double outer ring) and corrosion resistance (thin, dense chrome plating) available.
Precisely Guided Cylindrical Rollers
The use of precisely guided rollers dramatically improves all aspects of cylindrical roller cam follower performance. The dynamic load capacity, maximum running speed, and fatigue life are greatly enhanced. See the charts below for specific data regarding these improvements. Lower performance needle roller cam followers rely on rolling elements that have reduced load capacity. They are also subject to more rolling resistance, and generate higher operating temperatures. These unfavorable operating characteristics are the result of comparatively small roller diameter (reduced load capacity) and poor roller guidance, resulting in skewing (excessive frictional heat and reduced fatigue life).
The Best Seals in the Business
Advanced RBC Roller sealing technology provides long-term protection for the rolling element system. Without effective sealing, even the performance of RBC's precision roller guidance and cylindrical roller technology would be diminished. The contact lip seals provide sealing effectiveness for the cam follower's full operating life. By keeping grease inside the cam follower and contaminants away from the rolling elements, RBC Roller contact lip seals provide a "lubed for life" product.
---