Tyson Tapered Roller Bearings, RBC Thrust Bearings
Product Announcement from RBC Bearings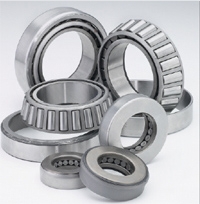 Tyson Tapered Roller Bearings
Tyson Tapered Roller Bearings are manufactured grade plant to the highest standards from the best grades of bearing quality steel. Both case hardened and through hardened bearings are available. Tyson manufactures the most popular medium sizes and is committed to making sure the bearings you need are in stock. Tyson Bearing's quality system is QS 9000 certified.
RBC Tapered Thrust Bearings
RBC Tapered Thrust bearings are manufactured in the RBC Oklahoma City, Oklahoma plant. The rollers and races are constructed from high grade bearing steel and are case hardened. Sealed, unsealed and greased versions are available. RBC manufactures the most popular sizes for truck steer axle, trailer landing gear, and other industrial applications. Most of the sizes shown are stocked.
RBC has implemented a total quality control system that uses statistical quality control at all facilities, and manufactures in high volume to a just-in-time program.
To serve the ongoing needs of customers, RBC has a network of over 1,600 distributors and sales engineers throughout the US, Europe, and South America, with authorized agents worldwide.
---