FLEXIMITE™ Flexible Disc Servo Couplings
Product Announcement from Renbrandt, Inc.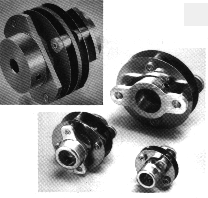 UNEQUALED PERFORMANCE
FLEXIMITE™ Couplings are specially designed for precision instruments, encoder drives, robotics, aircraft equipment, radar, laser, optical/mechanical devices, computers, precision remote controls.
Features
Zero backlash
Low inertia
Handles offset and angular misalignment
Torsional rigidity
Uniform velocity
No friction, wear, or lubrication
Long life
Low side loads on bearings
Accurate concentricity
Unaffected by dust or corrosive atmosphere
Available in four O.D. sizes, and any bore in inch or metric
Hi-Torque model now available
Available in four types based on intended use and four sizes to fit your applications. You may also select various Assembly Options where space is a problem or greater flexibility is desired.
Type A: For bridging long spans. When used individually it will not accommodate parallel misalignment, and is therefore recommended for use in pairs only, or at either end of an intermediate, unsupported shaft. Parallel misalignment accommodation depends upon length of intermediate shaft.
Type B: Discs with hubs aligned parallel to each other. Slightly shorter than Type C, slightly superior linearity of motion transmitted in majority of applications.
Type C: Discs with hubs mounted at 90° with respect to each other. Outstanding for general applications. High torsional rigidity with relatively low radial bearing loads. Slightly longer than Type B.
Type E: For use where lowest radial bearing loads and/or greater misalignment accommodation are indicated, and where torsional rigidity is not a major consideration. Minimum length (equal to Type B with reverse hubs) is achieved by mounting hubs inboard. Increased separation of flexible discs permits somewhat greater parallel misalignment.
---