Liquid Level Switch With High Chemical Resistance
Product Announcement from First Sensor Sensortechnics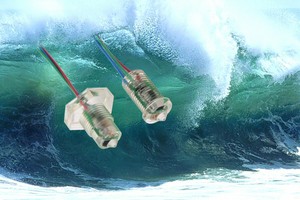 Sensortechnics introduces the new OLT liquid level switches for cost-effective optical point level detection. These sensors feature very high chemical resistance due to their Trogamid® miniature plastic housings making them suitable for a wide range of medical and industrial OEM applications. The OLT series can be used with many liquids which are not compatible with conventional polysulphone housings such as fuel, halogenated hydrocarbons (e.g. chloroform), methanol, acetone and ethyl acetate. Furthermore, Trogamid® can also be used in direct contact with food and drinking water. The optical OLT switches use solid state technology with no moving parts to measure accurately and reliably the presence or absence of liquid in tanks, reservoirs and pipes. The product range includes basic devices with analog phototransistor outputs, switches with microprocessor compatible TTL signals, or high power devices with transistor outputs for switching currents up to 500 mA. With their miniature threaded housings the OLT sensors are easy to install and consume little space. Additionally, Sensortechnics can easily modify or customize these products to fit special customer requirements. Important features of the new OLT series are:
Optical point liquid level detection
Very high chemical resistance
Solid state technology with no moving parts
Analog, TTL or transistor outputs
You have successfully added from to your part list.
---