Product Announcement from Silicon Designs, Inc.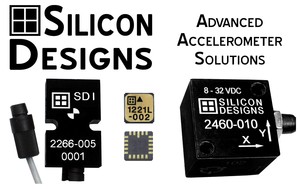 Silicon Designs, Inc. (www.silicondesigns.com), a global industry leader in the design and manufacture of highly rugged industrial-grade MEMS capacitive accelerometer chips and modules, is pleased to announce the appointment of Area 51 Solutions, Inc. (Area 51) (www.area51solutions.com) as its new authorized California sales representatives, with exclusivity in Northern California.

Based in San Jose, Area 51 is an active manufacturer's sales representative organization, providing daily face-to-face contact with its actively engaged customer base, while promoting its supplier line card product technologies throughout its territory network. Market areas of focus for Area 51 include automotive, semiconductor, biotechnology, medical, military & aerospace, and test & measurement. In its new role as local California sales representatives, Area 51 will be actively selling and promoting Silicon Designs MEMS capacitive accelerometer modules and chips for low-to-medium frequency instrumentation applications, with particular focus upon aerospace, energy, industrial, OEM and test and measurement markets, including extreme applications.
Notes Area 51 company president, Joe Raynak, "In our search for adding quality products to our portfolio, we targeted companies with an established track record of dominating their respective market sectors with a reputation for quality, favorable delivery, competitive pricing, and total commitment to providing support and service to the customer. We are also impressed and honored to work with an organization that is committed to the growth and development of MEMS fabrication, assembly and test facilities in the United States. We expect the Silicon Designs products to make a significant contribution to our future growth, while at the same time, providing a broader mutual customer base and access to new projects."

Based outside of Seattle in Kirkland, Washington, USA, Silicon Designs was founded in 1983 with the goal of improving the accepted design standard for MEMS capacitive accelerometers. At that time, industrial-grade accelerometers available on the market were bulky, highly fragile and costly. The engineering team at Silicon Designs listened to the needs of customers who required more compact, sensitive, rugged and reasonably priced MEMS capacitive modules and chips, yet which also offered higher performance for a lower overall per channel measurement cost. With the customer's expressed feedback in mind, resultant product lines were designed and built to surpass expectations. The company has since grown steadily over the years, though its core competency remains accelerometers, with the philosophy of "Make it better, stronger, smaller and less expensive" maintained to this day.
For more information about Silicon Designs and its available product technologies, please visit www.silicondesigns.com.
You have successfully added from to your part list.
---