IR Security Camera w/ Vibration Compensation Lens
Product Announcement from SOLTEC - an NEC Group Company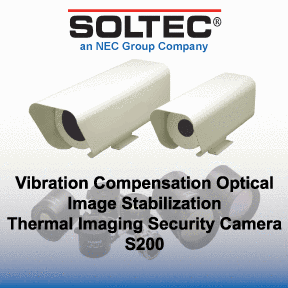 Nippon Avionics Co., Ltd., the top infrared technology manufacturer in Japan, and Tamron Co. Ltd., an integrated manufacturer of optical products and a leader in the security market, announced their joint development of a far-infrared (far-IR) high-sensitivity thermal imaging security camera that includes a choice from series of six high-performance interchangeable Vibration Compensation (VC) Optical Image Stabilization lenses, including fixed & motorized optical zoom for use in security applications.
In security applications, there is an increased need for improved image recognition. In the joint development work, an optical image stabilization system was used to improve the far-IR sensor's sensitivity and image processing capability. This also rectified image deterioration caused by vibrations at the camera installation point. The result is high-performance lens choices that deliver high-resolution images; at any focal distance when using an optical zoom.
The Jointly Developed Far-IR Security Camera and Lenses:
With this new far-IR security camera, significantly higher sensitivity, bundled with a variety of image processing capabilities was achieved. Six (6) types of interchangeable lenses are equipped with VC (Vibration Compensation) optical image stabilization for far-IR security cameras - the world's first - and the industry's premium zoom optical system optimized for the far-infrared range. And with the groundbreaking adoption of an interchangeable lens system, the camera and lenses may be flexibly used in a variety of combinations, depending on the respective monitoring situation.
1. Highly sensitive far-infrared sensor and expanded image processing
The combination of Nippon Avionics Co., Ltd. thermal imaging and image processing technologies produces surveillance images with even higher resolution.
Higher sensitivity: Equipped with far-infrared high-sensitivity sensor
Optimized display: Clear display throughout high, low temperature fluctuations
Edge enhancement: Silhouette contour lines are amplified to facilitate identification of the subject of interest
S/N improvement: Digital attenuation of noise
2. All lenses equipped with VC (Vibration Compensation) optical image stabilization, the first for far-IR cameras (the world's first)
Particularly for outdoor installation, images often deteriorate as a result of conditions such as wind and ground vibrations. To rectify this situation, all lenses are equipped with an optical image stabilization system; a first for far-IR cameras. The result is high-resolution monitoring images.
3. Lens with optical zoom ratio of 3x optimized for far-infrared bandwidth (two (2) lens models)
Zoom lenses were developed to cover the optimal focal distance for both mid- and long-distance monitoring purposes. The two 3x zoom lenses address the need for a wide range of field of view angles, and ensures high-resolution images at all focal distances.
4. Adoption of interchangeable lens system
A combination of four fixed focal length lenses and two zoom lenses is offered, to allow flexibility for different monitoring situations. The S200 camera system can be reconfigured by changing the lens to fit the respective purpose. This improves convenience of installation, speed of delivery, and inventory control.
5. Dust and waterproof/enclosures for outdoor installation
Two types of housings are offered for protecting the camera & lens system along with the lenses. Used in combination with the dedicated housing, the system is IP66 compliant.
Features:
320 x 240 Uncooled Vox Microbolometer
Long-Wave Infrared 8-14µm
Advanced 23.5µm Pixel Pitch Detector
New Lens Systems
IP66 Enclosure for Outdoors
Quick Links:
You have successfully added from to your part list.
---