Product Announcement from tesa tape, inc.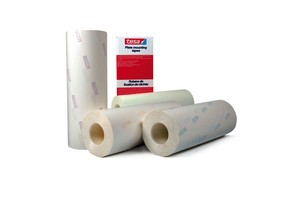 The development of the tesa Softprint® FE Family (Fast Mounting & Easy Demounting) was based on months of field research to determine specific needs and desires of today's sophisticated flexographic printer. Responding to market desires, the tesa Softprint® FE product line was designed with a new, highly-optimized adhesive system that creates a powerful bond between printing plates and cylinders / sleeves when needed, and removes with extreme ease upon job completion. Backed by a closed-cell PE (polyethylene) foam with an embedded polyester stabilizing film, tesa Softprint® FE products are engineered to maintain their shape and form throughout the entire print run, resulting in consistent print quality from the beginning of the job to the end. Additionally, tesa Softprint® FE products are available in multiple hardness levels to ensure a solution for virtually any press or print requirement.
Meet the tesa Softprint® FE Family:
tesa® 52920- for solid and line print
tesa® 52921- for combination print
tesa® 52922- for process print
tesa Softprint® FE is the solution for challenges facing today's flexographic printer:
Fast plate mounting and easy demounting = reduced transition time between print jobs
Maximize run speeds and efficiency by eliminating edge lifting
Remove plates from cylinders with extreme ease
Prolong plate life by reducing tearing or stretching of plates during demount
React quickly to last-minute changes
Works with all flexographic printing presses on the market
Maximize the print process; absolutely no capital investment is required
For more information on the tesa Softprint® FE Family and the complete line of tesa products for flexible package printers, visit www.tesatape.com/softprintfe.
You have successfully added from to your part list.
---