Infinite Position Design Folding Handles & more
Product Announcement from Schuster Electronics, Inc.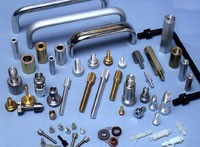 Schuster Electronics offers RAF Electronic Hardware the widest selection of American standard and metric dimensioned components available from a single source. You can choose the style, size, material and finish that's just right for your application. Plus they are very competitively priced!
The complete RAF Electronic Hardware line includes captive panel screws, spacers, standoffs, jack screws, precision shoulder screws, thumb screws, male-female standoffs and circuit board supports, in addition to handles and ferrules.
Applications: Sheet metal fabricators, Carwash equipment, Cell phone towers, Bill board displays, Lighting fixtures, Cooking equipment, Fitness equipment, Medical equipment, Simulation equipment, Test equipment, X-ray equipment, Welding equipment, Wheel chairs, Security Systems, Measuring systems, Control Panels, Air-conditioning units for Aircrafts, Audio Video Equipment, Power Supplies, Vacuum Systems, Slot Machines, Pinball Machines, Coffee Machines, Tire Balance Equipment, and Injection Molders
Captive Panel Screws: invaluable for equipment panels
Five styles of captive panel screws and seven swaged retainer types.
Brass, steel, stainless steel.
More than 30 metallic finishes.
Threads from 2-56 to 3/8-16.
Lengths from 21/32 to 2 inches.
Head diameters from 5/16 to 3/4 inch.
Choose from variations of slotted, unslotted, or hex heads, washers for oval head styles, plus retainer spring and washer sets
Thumb Screws: the finishing touch to front panels or other equipment
Washer face, plain, and push styles.
Aluminum, brass, steel, stainless steel.
More than 40 metallic finishes.
Threads from 4-40 to 1/4-20.
Lengths from 1/2 to 2-1/2 inches.
Diameters from 3/16 to 1/2 inch.
No tool assembly
Easy-to-grip diamone knurl head surfaces
Spacers: for applications requiring close control of dimensions
Round and hexagon profiles.
Aluminum, brass, steel, stainless steel, nylon, phenolic.
More than 40 metallic finishes.
Lengths from 3/32 to 2 inches.
Diameters from 1/8 to 3/4 inch with clearance holes ranging from 0.064 to 0.505 inch.
Printed Circuit Board Support: used extensively to mount small, non-critical PCBs
Fifty-six different PCB support components include standoffs, spacers, adhesive base supports, threaded and snap-on, blind-hole, flexible hinge, edge/corner and many other.
Materials include three different nylons, a flame retardant nylon, polycarbonate, and CPVC.
No-tool insertion and removal
Standoffs: basic standard for PCB mounting
Female, male-female, and male-male styles.
Round, hex, and square profiles.
Aluminum, brass, steel, stainless steel, nylon.
More than 40 metallic finishes.
Threads from 0-80 to 5/16-18.
Lengths from 3/32 to 10 inches.
Diameters from 1/8 to 5/8 inch.
Handles & Ferrules: eleven attractive and functional handles lines available
Round, rectangular, and oval profiles.
Fixed, offset, 2- & 3-position, free fall, and infinite position styles.
Aluminum, brass, steel, stainless steel.
More than 40 metallic finishes.
Internal and external threads.
Lengths from 3/4 to 7 inches.
Jack & Screws: primarily used to secure D-type cable connectors in computer and other electronic equipment
Standard design hex jack screws.
Supplied with washers and nut.
Material: Steel with zinc plate per ASTM-B-633 (yellow chromate) finish.
Threads: 4-40
Thread lengths from 3/16 to 3/4 inch.
Body diameter: 3/16 inch hex.
Body length: 3/16 inch.
Can be customized for your application
Non-metallic Flat and Shoulder Washers
Non-metallic flat washers.
Non-metallic shoulder washers.
Diameters from 1/8 to 1-1/2 inch.
Washer thickness from 0.015 to 0.125 inches.
Wide choice of hole sizes, shoulder lengths, and shoulder diameters.
Materials such as Nylon, Teflon, Phenolic, Fibre and others
Good surface protection, deform slightly under pressure to partially seal and secure assemblies, and provide excellent thermal and electrical insulation
Precision Shoulder Screws: Useful as a precision spacer and bearing surface for a wide variety of applications
Slotted and socket heads available.
Brass, steel, stainless steel.
More than 30 metallic finishes.
Threads from 4-40 to 3/8-16.
Shoulder lengths from 0.1250 to 1.500 inch; shoulder diameters from 0.1245 to 0.4995 inch.
Head diameters from 1/4 to 5/8 inch.
Custom Design, Engineering, and Manufacturing
When you have a critical project that requires a special piece of electronic hardware, RAF is ready to work with you to produce just what you need. Whether you want to modify one of the existing stock components or have something completely different in mind, they offer the design, engineering, and production services that turn your ideas into reality.
Their world-class production facility and in-house plating operation combined with years of problem solving means that any part can be customized to your exact specifications.
Visit Schuster Electronics or contact your Schuster Sales Representative today at 800-521-1358 or 800-877-6875 for more information.
---