Minimize Leakage Level and Noise in 1-Package
Product Announcement from Schuster Electronics, Inc.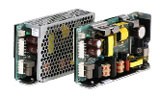 Most AC-DC power supplies and AC line filters use de-coupling capacitors ("Y-caps") to control conducted noise. The problem is, de-coupling capacitors increase leakage current. Relying on Y-caps to control noise can cause problems if your application needs to satisfy medical-grade safety certifications.
Even if a power supply is certified medical-grade, combining it with a filter and/or another power supply can cause your application to exceed the 300 microamps leakage limit. The Cosel PMA Series of medical-grade AC-DC power supplies has a built-in dual-choke filter that minimizes both leakage and noise that meets FCC Class B compliance. It's like an AC line filter and power supply in one package.
With a 5-year warranty, Cosel's PMA Series AC-DC Switching Power Supply is UL60601-1 approved for non-patient contact devices in medical, dental, and veterinary applications. This series provides an easily integrated solution for these applications from 15~100 Watts. The PMA Series is available in 15, 30, 60, 100 Watt units from 3.3 Volts to 24 Volts. The PMA offers 100% convection cooling and is Power Factor corrected (60, 100W). A built in fuse provides additional security. Features include:
High Quality, high reliability, and high efficiency
5-year Warranty backed up with Cosel company-wide failure rate of 36 PPM
Low leakage current 0.09mA/0 18mA 100 VAC 240 VAC (60/100W)
Complies with UL 60601-1, C-UL, TUV, CE, RoHS
Isolation Input/Output 4,000 VAC - FCC Class B Conductive Noise, Fully Regulated
100% Convection Cooling - Operating Temperature - 10~70 C
Applications: Medical, Dental, Veternary
Visit Schuster Electronics or contact your Schuster Sales Representative today at 800-521-1358 or 800-877-6875 for more information.
---