New Sensing Technology with Touch Key Display
Product Announcement from Schuster Electronics, Inc.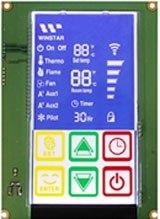 Schuster Electronics introduces a new custom design icon-type touch key display solution by Winstar Display. The touch key display is built upon cutting-edge capacitive sensing technology which does not require a touch panel on top of the LCD panel. Winstar offers a cost-effective Single Layer ITO solution and a feature-rich Double Layer ITO solution.
The Single Layer ITO touch key patterns and LCD cells share the same ITO layer. Top half of the glass is display and bottom half is touch key buttons. The Double Layer ITO solution allows the display icons be touch buttons as LCD cells and touch patterns are in different ITO layers.
The touch key sensitivity of both solutions are adjustable. Maximum of eight touch buttons are supported for both solutions. The Single Layer ITO solution is currently in production while the Double Layer ITO solution will be coming soon.
Visit Schuster Electronics or contact your Schuster Sales Representative today at 800-521-1358 or 800-877-6875 for more information.
---