Low-Power TMR Magnetic Field Sensor MMLP57H
Product Announcement from MultiDimension Technology Co., Ltd.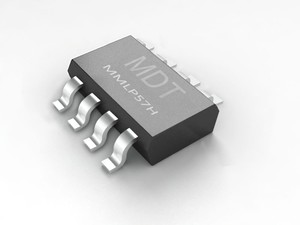 The MMLP57H TMR linear sensor from MDT features wide operating field range at +/-70 Oe, ultra-low power consumption at 5μW, very-low hysteresis at 0.1%FS, high field sensitivity at 3 mV/V/Oe, and excellent thermal stability over -40°C - 125°C. Designed with TMR technology (Tunneling Magnetoresistance), a unique push-pull half bridge composed of two TMR elements provides a high sensitivity voltage output that is linearly proportional to a magnetic field applied parallel to the surface of the sensor package. The MMLP57H linear sensor is suitable for a variety of magnetic sensor applications under diverse operating conditions. It is available in a 6mm x 5mm x 1.7mm SOP8 package.
Features and Benefits
Ultra Low Power Consumption: 5μA at 1V Supply
Large Dynamic Range:+/-70 Oe
Ultra Low Hysteresis: < 0.1%FS
Excellent Linearity: Non-linearity < 1% (in +/-30 Oe)
High Field Sensitivity: 3 mV/V/Oe
Outstanding Thermal Stability: TCOV 0.1%/°C from -40°C - 125°C
Compatible with Wide Range of Supply Voltages: 1V - 5V
Applications
Magnetic Field Sensing
Current Sensors
Linear Position Sensors
Rotary Position Sensors
---