Helping Reduce Downtime and Increase Productivity
Product Announcement from 3M Advanced Materials Division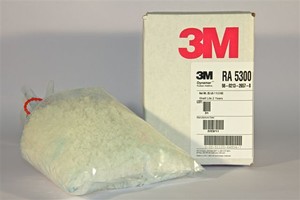 As a rubber processing additive, 3M™ Dynamar™ RA 5300 high performance rubber additive may aid molding processes with improved flow, release, and reduced tool fouling, especially at higher molding temperatures (approximately 400°F), decreasing the time between cleanings and increasing the productivity of your line. Dynamar RA 5300 can also improve the surface finish of FKM extrusions, delivering a higher yield and improved downstream processing, thus helping reduce your scrap rate.
RA 5300 is designed for use at low loadings to improve the processing in extrusion and molding operations. It utilizes unique chemistry which makes it particularly effective as a processing aid in fluoroelastomer compounds and we are currently testing it with other non-fluorinated elastomers. Loadings between 0.5 and 1 PHR (parts per hundred rubber) will achieve excellent performance with limited effect on rheological and physical properties of the overall compound.
Compared to conventional FKM processing additives, RA 5300 exhibits exceptional stability for compression set and heat age resistance, and at loadings less than 1 PHR has little to no effect on rheological properties.
More information, including a very detailed White Paper, photos and product videos can be found at www.3M.com/RA5300. Wanna give it a try? Buy now via Shop3M.com!
You have successfully added from to your part list.

Play Helping Reduce Downtime and Increase Productivity Video
---