Quick Change Cylinders
Product Announcement from Tooling Technology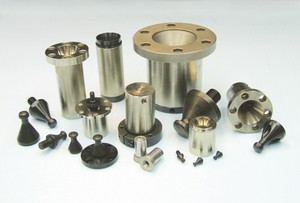 Tooling Technology's Segen Locks are precision mechanical locating systems that provide fast and accurate tool changeover for numerous industrial applications.
The Segen Quick change system replaces old-fashioned nuts, bolts, fasteners and hand tools, which significantly reduces the time wasted on industrial setups, changeovers, workholding, clamping, fixturing and alignment.
Our strong, precise and reliable cylinders and mating knobs pay for themselves quickly by replacing "down-time" with "production time".
How it works:
With a quick burst of air pressure, the cylinders unlock to receive, and locate their mating steel retention knobs. Removing air pressure from the cylinder allows the internal piston cam to mechanically position five hardened steel balls around the knob, locking it into place until air pressure is applied again to release it.
The precision surfaces of the cylinder locks and mating knobs offer repeatability of .0002", with thousands of pounds of fail-safe mechanical holding strength.
Positively locked in a static state, the cylinder lock actuates when air pressure is applied to release or receive the knob. The cylinder locks stay mechanically locked until pneumatic pressure is applied to automatically release them. This assures a secure, fail-safe hold, even if pneumatic pressure is lost.
Without the need for old-fashioned nuts, bolts, wrenches and hand tools, the Quick-Change cylinder locks quickly pay for themselves by adding production time to your workday. The systems are ideal for precisely and instantly locating and holding just about anything, making changeovers and setups simple, safe and secure.
Tooling Technology's "Segen Locks" are reducing downtime and waste for numerous industries including plastics, machining, stamping, welding, robotics, automation, extrusion, aerospace, automotive, marine, windows & doors, appliances, rubber, fabricating, racing, metalworking, medical, electronics, defense and more.
Applications for improvement with our quick-change mechanisms are endless. These innovative and practical products will reduce downtime, improve quality, eliminate waste, enhance efficiency, and increase your overall profitability.
You have successfully added from to your part list.

Play Quick Change Cylinders Video
---