ThermoFlex Recirculating Chillers
Product Announcement from Thermo Fisher Scientific - Thermo Scientific Baths, Circulators & Chillers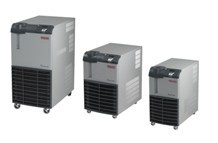 Your success circulates at every degree. Thermo Scientific ThermoFlex Recirculating Chillers deliver a continuous cooling capacity up to 24,000 watts. The ThermoFlex platform was developed with customer input from concept to design resulting in an easy-to-use, easy-to-maintain high performance chiller platform configurable to meet diverse application requirements.
You can expect years of worry free operation from the Thermo Scientific NESLAB ThermoFlex platform. Featuring a robust refrigeration system with an integrated air filter, a patented recirculation system with a full flow fluid filter and an intuitive user interface, the ThermoFlex series was designed for continuous use in a variety of applications to maximize uptime.
For more information, contact us directly:
US: 800-258-0830
Int'l: 603-436-9444
Visit www.thermosientific.com/tc to see the complete list of temperature control products.
---