Compact Narda 90-deg. Hybrid Coupler
Product Announcement from Narda Microwave-East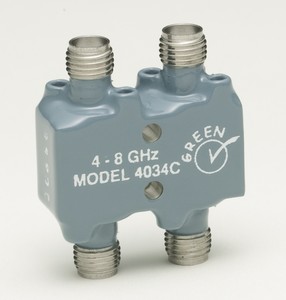 Narda, an L-3 Communications (NYSE: LLL) company, introduced the 4034C miniature stripline coaxial microwave 90-deg. hybrid coupler that is extremely rugged, offers high isolation, and resists shock and vibration.
The Model 4034C has coupling of 3 dB, operates from 4 to 8 GHz, handles 50 W average and 5 kW peak power, and has isolation of at least 20 dB. Insertion loss is 0.3 dB or less, VSWR is 1.25:1 or less, amplitude balance is +/-0.6 dB, and phase balance is 10 deg. The hybrid measures 1 x 0.5 x 0.36 in., weighs 0.6 oz., and has female SMA connectors. The Model 4034C meets military requirements for shock and vibration and has an operating temperature range of -54 C to +105 C.
The Model 4034C is available from Narda for immediate delivery.

Visit Narda Microwave-East for more product details.
---