Surface Mount Resistive Products
Product Announcement from Aeroflex / Inmet, Inc.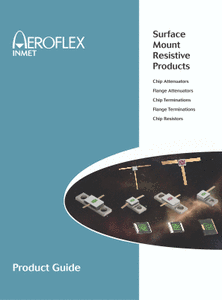 With the addition of the KDI-Resistor product legacy to the Aeroflex / Inmet product portfolio, we're moving forward as a leading global supplier of RF and Microwave components. Thick and thin film surface mount products include terminations, resistors and attenuators on Aluminum Nitride (AlN), Alumina (Al O ) and Beryllium Oxide (BeO) ceramics in chip, tab/leaded and flange mount configurations. Aeroflex / Inmet offers high power chip devices, flange mount 50 and100 Ohm resistors, terminations and attenuators with power handling to 800 Watts CW. Inmet's manufacturing environment offers volume capacity and a wide range of custom design capabilities.
---